Overview
A player's
Grade
refers to the amount of
NX
they have
spent
, not purchased,
in the game.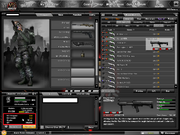 It can be seen though a player's Character Information.
Use
Aside from the Black Market server's Bronze grade requirement, the Grade system has no other use whatsoever.
The grade level "increases" as the player purchase more and more items with NX. Loading your account with NX without purchasing anything will not increase your grade.
List of Grades
Here is a list of all current grades, and the amount of NX spent that is required to obtain that grade.
Common Grade

0 NX

-

0 NX

 - (No NX spent)
Copper Grade

1 NX

-

24,999 NX

 - (1¢ - $24.99)
Bronze Grade

25,000 NX

-

99,999 NX

 - ($25 - $99.99)
Silver Grade

100,000 NX

-

499,999 NX

 - ($100 - $499.99)
Gold Grade

500,000 NX

-

999,999 NX

 - ($500 - $999.99)
Platinum Grade

1,000,000 NX

-

4,999,999 NX

 - ($1000 - $4999.99)

Diamond Grade

5,000,000 NX

+
- ($5000+)
Eventsvents
During Christmas Week of 2011, Players would receive a free NX code according to grade.
Trivia
A widely-believed myth is that having a high grade results in certain in-game benefits, such as;
Access to better deals.
IMMUNITY from suspensions/bans.
FASTER responses to support tickets.Yet this is widely-believed and often highly-requested throughout the community.

The Bronze grade requirement was changed several times, before reverting back to its original amount. The Copper grade was in-between Common and Bronze at a certain point.