Combat Arms Europe (EU) is the European version of Combat Arms.
It was formerly exclusive to the countries of Europe, but has since merged with Combat Arms Global.
Overview
Combat Arms Europe made its debut a few months after the American/Oceanian server's initial launch. Closed Beta began on October 28th, 2008, and after being in Open Beta for about 2 months, the European server was finally released to the public in January of 2009.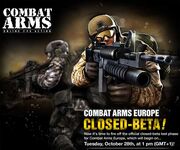 CA:EU was known for receiving the latest game updates before any other server. Death Room was once a European-exclusive, as were category-specific Supply Cases.
Before the merge, some items had a different Rank Requirement compared to other servers. For example, the Dragunov SVDS was not availible for direct GP-purchase until the rank of Brigadier General; while in Global CA, it only required a rank of Major/V.
Mergers
The region has grown to include several South American countries, which were once limited to Global CA.
As of June 30th, 2015, Combat Arms Global has also merged with CA:EU to become one service, thus eliminating both individual services. The option to play on either server (with the combined service) is still available, however.
See also