This is a historical page that documents Weapons, Gear, Modes, Maps, Sales, or Events that are no longer available, and as such, information should only be added.
The Black Market is a major feature of Combat Arms. It was first released in the 10-1-08 Patch.
Overview
The Black Market, like the Shop, carries many different items to choose from. Unlike the Shop, however, the items sold here are exclusively bought with NX.
The benefit of obtaining items through the Black Market is ease of access, bypassing the rank restrictions on weapons that would otherwise require a high rank. Furthermore, items from the Black Market carry an advantage over standard GP items, further increasing their demand.
Mercenaries, special function items, and other exclusive gear and weaponry can be obtained here.
Updates
As of the 2/4/09 Content Update, all Black Market items have lost their rank restrictions.
As of the 4/10/10 Content Update, Black Market items can now be bought online through the CA website.
As of XXX, Black Market purchases now affect the Grade system.
As of XXX, only players with a Bronze Grade can enter the (now defunct) Black Market server. The amount of NX required to reach Bronze has increased to $25–30, and a lesser grade of Copper was introduced.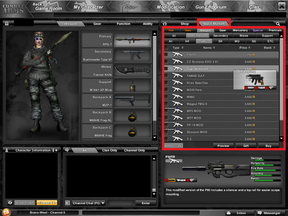 List of Black Market Items
The following are the full list of items found in the Black Market.
Weapons
Assault Rifles
SubMachine Guns
Sniper Rifles
Machine Guns
Shotguns
Explosive Projectiles
Support Weapons
Melee Weapons
Pistols
Gear
Head
Face
Uniform
Vests
Backpacks
Mercenaries
Specialists
Operatives/Assassins
Operative Items
Assassin Items
Abilities
Premium Items
Function
Supply Cases
Abilities
Set Item
Sales
Trivia
The Black Market is the origin of the phrase, "Free to play, pay to win".
Currently, all standard Black Market firearms can be bought for a permanent duration; this is ultimately the smartest choice in spending NX for its value.
In Combat Arms EU, all weapons can be bought for a permanent duration.
Original Black Market Items
Weapon Packs
Mercenary Packs