The

(HoF for short) was a prestigious honor awarded to select players within the Community. 
Each member was a person who stood out in a unique way within the game. A majority of the inductees were fairly well-known at one point.
Retirement
After the release of Combat Arms 3.0 (which updated the main website and removed many former features), the Hall of Fame ceased to exist. It is unknown if it will be reinstated.
The former link can be found here (use of the Wayback machine is needed).
All Hall of Famers
There were seven known Hall of Famers, before it retired:
(#1) Greatfullded - First General of Combat Arms. Inducted on 05/25/10.
(#2) ForteFz - Combat Arms Investigative Journalist. Inducted on 07/14/10.
(#3) Slaven152 - Winner of Combat Arms' First Map-Naming Contest. Inducted on 03/15/11.
(#4) ZeroExalted - Combat Arms Archiver. Inducted on 03/22/11.
(#5) Klypto - Combat Arms Technical Guru. Inducted on 06/3/11.
(#6) TRStrider - Combat Arms Forums Fire Tamer. Inducted on 07/22/11.
(#7) CC_FANG - Combat Arms Community Shepherd. Inducted on "04/13/11" (February 2012).
Media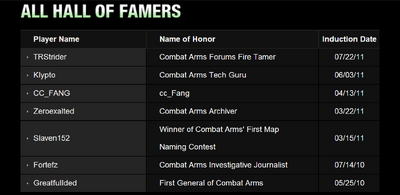 Community content is available under
CC-BY-SA
unless otherwise noted.